I attended a funeral service in the old hometown in Oklahoma yesterday.  Dr. J. N. Baker was of one of the finest Christian men it has ever been my privilege to know. He was 96 when he passed into heaven last week and was buried with full military honors yesterday.
At my house growing up he was a respected and beloved family friend, and very much a surrogate grandfather to my younger sisters. For many who knew him as the former Dean of Students at OSU and then the president of Eastern Oklahoma State College where my parents were on the faculty — he was always "Dr. Baker."
For the thousands of fighting men who served under him in both World War II and the Korean conflict, he eventually became "General Baker."
He was born in 1919 in rural southeastern Oklahoma but was orphaned before he was old enough to begin attending the one-room school nearby. One of his daughters noted at his service that he liked to observe: "My parents came to Oklahoma in a covered wagon, yet I've lived to see men walk on the moon and to hold a powerful computer in the palm of my hand."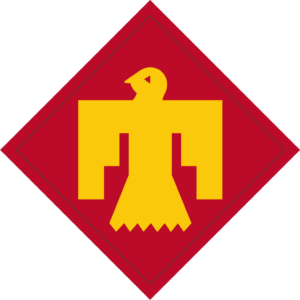 In the 1930s he joined the Oklahoma National Guard while still in high school. (Apparently that was possible back then.) For the next three decades he was an integral part of the Oklahoma's 45th Infantry Division—the Thunderbirds—established in 1920. The 45th was one of the very first guard units called up when the U.S. entered World War II in 1941.
In 1943 the Thunderbirds were part of the tip of the spear in the invasion of Italy, beginning with the amphibious assault on Sicily and then the intense fighting at Anzio and Monte Casino.
This was followed by an amphibious invasion of southern France at Dragoon, then the push across France and into Germany. Ultimately it would be the 45th that liberated the infamous German concentration camp at Dachau.
Their work finally done, the division got to come home in 1945. Five short years later Cold War hostilities erupted on the Korean peninsula. At that point, only 20% of the men of the 45th had fought in WWII, but Dr. Baker was one of them.
Eventually, he became the Thunderbird's final commanding General, serving from 1964 to 1968.
Three surviving World War II veterans who served with him were there at the funeral to pay their respects  yesterday. Yes, members of " the Greatest Generation" were in the house — but we're losing them rapidly. Soon the last of them will be gone.
However, it wasn't the military man my family knew and loved—although his perfect posture and a meticulous, squared-away approach he brought to every project and enterprise hinted at his training. Otherwise, you might never have guessed his background and rank.
He wasn't the course, gravely George Patton stereotype. Quite the opposite. He was soft-spoken, humble, gentle, immensely thoughtful, and carried a deep, abiding faith in God.
He a was regular guest at my parent's Sunday table for lunch after his cherished Helen, his wife of 64 years, died after a long illness that left her blind in her final years.
Whenever someone would remark admiringly about the tender, extraordinary efforts he was expending in caring for her in those years of heartbreaking decline, he would smile and brush them off. "She took care of me for sixty years. It's my privilege to take care of her now."
Whenever any of us was home for a weekend visit, it was our privilege to participate in those lunches with him. As the elder statesman at the table, the honor of blessing the meal frequently fell to him.
I remember being deeply impacted by one of those Sunday lunch prayers a few years ago. I can honestly say it changed me.
As we prepared to dive into mom's pot roast, it wasn't his prayer's eloquence or profundity that marked my soul that day. It was the genuine gratitude that welled up out of his heart and flowed from his lips.
"Heavenly Father, you've been so very good to us. (long pause) . .  Thank you. (longer pause) Thank you, thank you, thank you . . . "
This was no perfunctory, religious saying of "grace" over a meal. Those repeated thank yous were an offering.
Thank you, Dr. Baker.
I'm grateful to have had the example of a life so well-lived.  Strength in kindness. Confidence in servanthood. Gratitude in selflessness. Cheer in hardship. This was the gold standard of Christian manhood.
Now he has joined that great cloud of witnesses who waits to see how we'll run the balance of our races.
You'll have to excuse me now . . . I'm suddenly feeling the need to lay aside some weights.