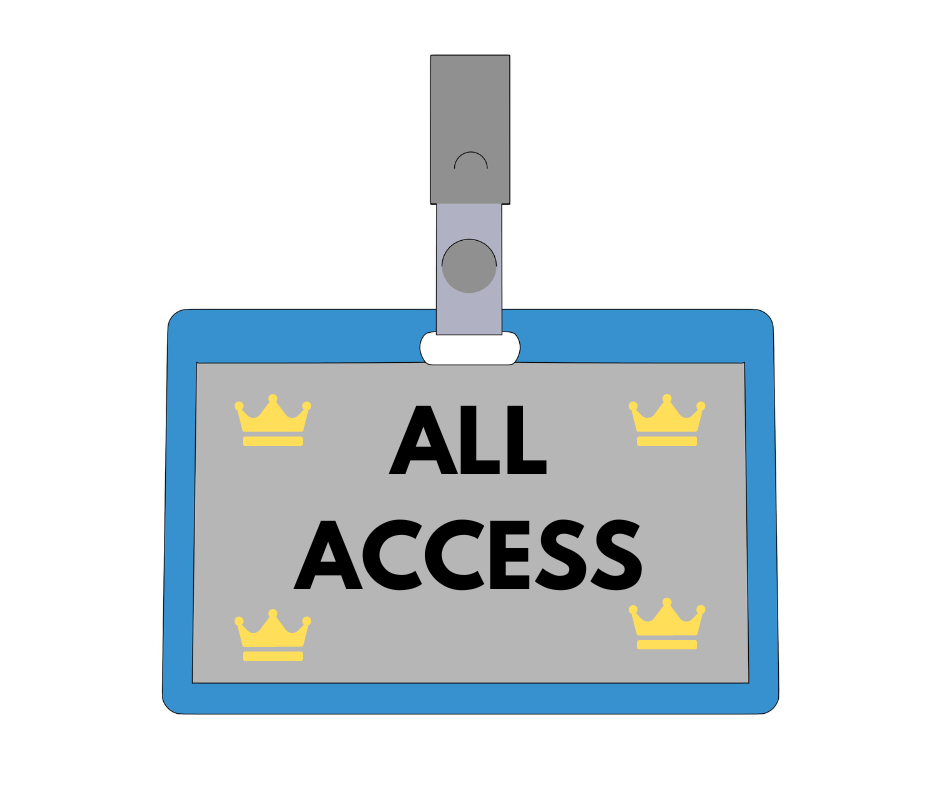 This perfectly wise plan was destined from eternal ages and fulfilled completely in our Lord Jesus Christ, so that now we have boldness through him, and free access as kings before the Father because of our complete confidence in Christ's faithfulness. (Ephesians 3:11-12, TPT)
" . . . free access as kings . . ."
In the world of concerts and sporting events, there are tickets (good). There are front-row tickets (better). There are backstage passes (best). And then there is something called the "All Access Pass." (epic)
When it comes to relationship with the God of the Universe, many believers seem satisfied with just having a ticket. They know they're going to heaven when they die. And they know God hears them when they pray—although He often seems distant and disinterested.
Yet as the verse above suggests, Jesus is, in a very real sense, an "All Access Pass" to the Father and to everything Jesus died to purchase for us. One of the most significant, meaningful, and impactful realities of the new birth—a miracle which puts us "in Christ" and Him in us—is that we now have complete, confident, "free," and "bold" access to our heavenly Father.
Yet most believers don't think or act as if this is their reality. Too many believers let shame and guilt keep them at a distance from God's presence. They're sitting in the nosebleed section. From where they sit, it sure seems as though the crowd gathered in front the stage is having a very good time.
This is because they have forgotten, or have never been taught, that they never come to God in their own flawed righteousness. They can't! They always and only come in Jesus' righteousness. The tragedy is that it is only in God's presence—in intimate fellowship, conversation, and communion with Him—that they can experience the transformation that changes the behaviors that cause their shame and guilt.
When I've acted unrighteously, when I've sinned, when I've made a mess of things, that's when I must run to my Father. There the light of His presence will illuminate the dark, unrenewed corners of my soul so they can be made new. Only that light can expose the lies I've believed that are the root of my patterns of sin and failure.
Hebrews 4:16 says we can and should "come boldly" to God's throne of grace, and there find both mercy and help in our times of need. But if I don't understand the reality that I have received a better righteousness because I am "in Christ," I will let my shame keep me away from the only place that can fix what's broken.
We never again need to approach God on the basis of our own righteousness. By grace, we have literally "become" the righteousness of Jesus Christ.
All of this means we can view the door to God's Presence as always wide open. Once we renew our minds to those truths—once we root our identities in them—we begin to feel free to fly to the Father's arms of love at any moment of need or crisis.
What's more, we will no longer view spending time with God as a box to be checked in order to qualify for blessing or answered prayer. Fellowshipping with our Creator becomes a privilege not a prerequisite. An opportunity not an ought.
That means our times with the Father become a source of joy in our lives. With Him we receive strength and nourishment and instruction. What's more, in His Presence we experience transformation. Our desires begin to change. Whereas countless believers spend their entire lives trying (and failing) to change from the outside in through sheer discipline and willpower, we will experience seemingly effortless change from the inside out.
We discover a life without the fear of rejection. Without the fear of judgment. Without the fear of not qualifying for what Jesus died to provide.
That's the epic power of our "All Access Pass" in Jesus.