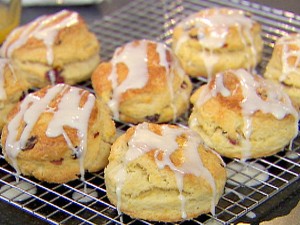 Got an urge to bake this evening so I made some cranberry-orange scones from this Ina Garten recipe. (I call her Ina Kleine NachtGarten, but only Mozart aficionados get the joke.) After I applied the orange glaze and broke out the Double Devon cream we bought the other day, Mrs. Blather tried one. Then she had another one. That's always a good sign. I thought they were quite tasty, if I do say so myself.
Tomorrow Mrs. Blather and I will mark our 23rd wedding anniversary. This will be the first time in 16 years that we haven't gotten away for an overnight at a hotel or B&B and done a little last-minute Christmas shopping. But we will do a little shopping tomorrow and grab a nice dinner tomorrow night. All of which will be great but woefully inadequate as an expression of my love and profound gratitude for the gift that is my bride.
We have the college girls home for a few weeks and we plan to watch all our favorite movies, cook all our favorite foods, and laugh. We'll laugh often and dream big.