Welcome to my new bloggy home–a place formerly known as Blather. Wince. Repeat (dot com).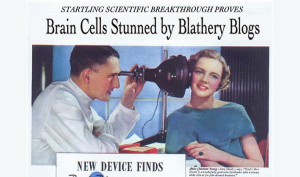 The "Blather" blog broke nearly two years ago (8/31/2012 to be precise) and I've been blogless ever since. I made numerous attempts to repair/restore the blog over the last two years. All were exercises in teeth-grinding frustration. I only recently learned that the heart of the blogging software (WordPress) had been commandeered by some pirate invader hack which disabled the Admin and proceeded to use the host server as a spam generator.
Efforts by smart, tech-savvy friends to recover all the content I'd created over the previous five-and-a-half years have all failed. This is profoundly disappointing. It's a little like losing all the family pictures and videos in a fire.
The blog launched back in March 0f 2007. I remember the content of that very first post:
A day is coming in which this will be a place characterized by incisive cultural commentary, startling wit, and gratifying prose.  This is not that day.
In the years that followed I periodically ranted, preached, taught, mused, snarked, joked and observed. But I believe the best writing I did sprang from family life and milestones:
Three beloved daughters growing up and, one-by-one, leaving the nest.
My father's diagnoses with Alzheimers–his noble handling of the news, his heart-breaking decline, and his passing.
Anniversaries, engagements, weddings and funerals.
Tributes, remembrances, regrets and givings of thanks.
I remember every one of these posts. Alas the Internet does not. Well, that's not entirely true. The "Wayback Machine" and the wonderful Internet Archive has a few pages cached from various dates–here.
I'm still clinging to a sliver of hope that I'll be able to recover those years of writing. Nevertheless, the last few years of my life have very much been about starting over from scratch. So perhaps it's appropriate that there is no history behind this blog post.
As before, if you're so gracious as to pop by here from time to time, I'll do my best to make you glad you did.