In this moment of history, many of my fellow believers are arguing passionately that the nations of Europe (and the U.S., too) should continue accepting and settling every poor person who makes it to their shores. I'd like to explore that assertion but it will require a couple of long posts to do so. Stay with me. This is important stuff.
A nation can choose to be a welfare state. A nation can choose to have open borders. But no nation can choose both. Not for long anyway. So observed famed economist Milton Friedman many years ago.
The validity of Friedman's assertion is now being tested in Europe before our eyes. Friedman, math and common sense all argue:
As a nation, to provide a social welfare safety net of services for the poor AND welcome the poor of the world to your soil is tantamount to economic and cultural suicide.
As I write, refugees by the hundreds of thousands are pouring across Europe's largely open borders and into the generous social welfare safety nets those liberal nations provide for their residents.
The British newspaper, The Independent, published the stunning data visualization below to illustrate the scale and scope of what has taken place over the last few months—and very importantly, where they're coming from. Each moving dot represents 25 individuals.
If image doesn't load, CLICK HERE.
One of the striking things about this map is WHERE these refugees are coming from. The narrative is the they're all coming from Syria and Iraq where ISIS' reign of hell is rampaging. That's clearly no longer the case.
By October 20, the number of refugees passing through Greece had surpassed 500,000. This literal exodus indeed began as a result of the deteriorating security situation in Iraq and Syria, which in turn is a direct result of President Obama's foolish, catasrophic withdrawal of U.S. forces from Iraq (as I pointed out in this blog post). But once it became clear that Europe was going to accept refugees, the flood gates opened from all over that half of the world.
Each one of those moving marks represents 25, heartbreaking individual stories. Real people, with real needs, hurts, dreams and aspirations.
However, viewed as a whole, these immigration flows create a self-reinforcing, self-amplifying cycle. Welcoming refugees triggers more and increasing refugee movement. Accept a trickle and invite a flood.
This is precisely what we saw here in the U.S. between 2012 and 2014.. As soon as the Obama Administration made it clear that underage illegals immigrants would be allowed to stay here and helped to establish residency, a tsunami of children and youth began rushing toward the Rio Grande from Central America.
As this PBS report explains, prior to 2012 an average of 8,000 children were intercepted at the border each year. Then word got out that the White House had ordered immigration officials to stop enforcing the laws on the books, especially where minors were concerned.
Many within the American Church—from Unitarians to Southern Baptists—cheered this move as a more compassionate, more humane, more Christian policy.
However, news travels fast. And the law of unintended consequences is merciless.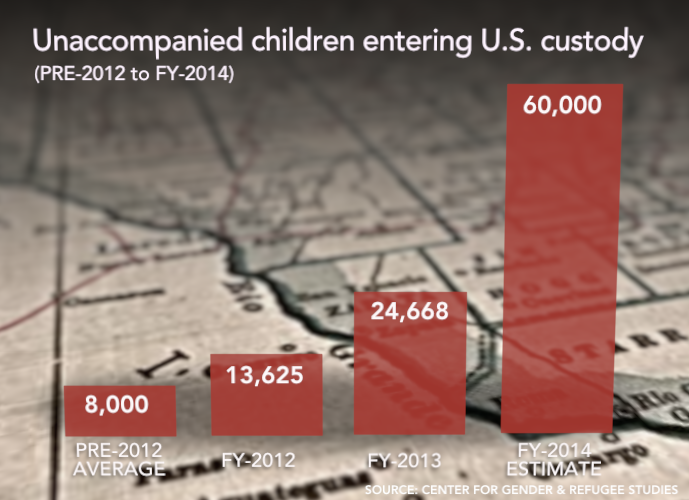 Soon poor mothers across Guatemala, Honduras, and elsewhere were sending their unaccompanied children north, asking them to run a gauntlet of vicious narco traficantes, human traffickers, pedophiles, abusers, jungles and deserts.
We know that in the first half of 2014, roughly 60,000 minors actually made it to U.S. soil. What we will never know is how many did not make it. How many died along the way? How many were pressed into child labor or into the service of the drug cartels?
Accept a trickle and invite a flood.
Here's a hard truth. Those who, with the best of righteous intentions, advocate for governmental acceptance of the trickle must own their responsibility for the deaths caused by the flood.
Of course, American liberals never, ever take responsibility for the catastrophic unintended consequences of their poorly thought out do-gooding. But my fellow Christians and I should. But back now to Europe . . .
Today many of the same voices of faith are saying the governments of Europe must accept and care for every Middle Eastern and African immigrant that arrives on their shores. They are explicitly claiming that it is the "Christian" thing to do and that governments ought always do the Christian thing.
In other words, many people believe the governments of Europe should put on a giant WWJD bracelet. But is that true?
I believe it is both possible and necessary to distinguish between what an individual Christian should do and what the government of a nation-state should do. Not only is it possible—it's vital.
I know this sounds heretical, but a government can't be a good Christian. And I don't believe it should try.
I'll explain in my next post.