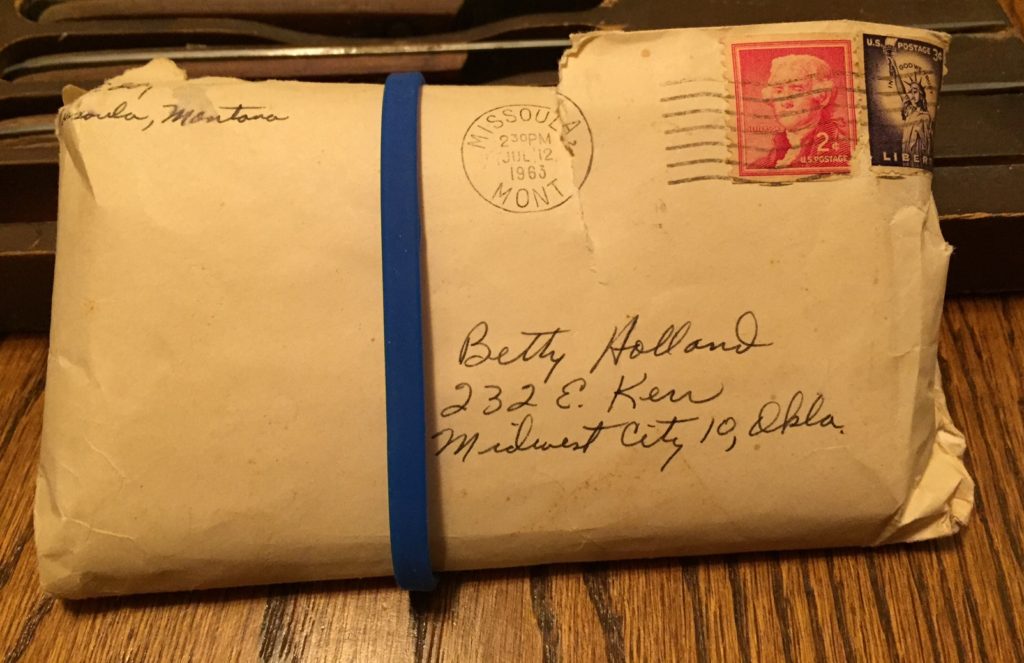 Ah, yes. Now I remember. That's what a night sky is supposed to look like. So many stars . . . scores of familiar constellations . . . sparkling against a black velvet backdrop. There you are Milky Way, hung across the sky like a sash. There you are, Seven Sisters. It's been a long time, ladies.
I know I'm far away from the city when I can see the Pleiades.
I'm back at the ancestral estate—the rural Oklahoma hill country acreage where I grew up. Like a salmon, I fought my way upstream from Dallas-Fort Worth on asphalt rivers called U.S. 75 and U.S. 69 to the place of my childhood. But I'm not here to spawn and die. I'm here to sort and cry.
It's not just the night sky that's different here. As I stand in the field in front of the house I grew up in, I'm aware of a strange sensation in my ears. Oh, right. It's the quiet. I've grown so accustomed to the thrummy, low-frequency drone of freeway traffic in the distance and jets in the sky that I don't even notice the noise until it's missing.
Sound travels a long way out here. I'm actively listening. (Is this what the modern hippies call mindfulness?) From more than a mile away I hear a bull bellowing mightily, sounding like a Hebrew shofar calling the Israelites to battle against the Philistines. From a quarter-mile down the road I hear a woodpecker rapping on a tree.
And there's bird song. So much bird song. It's the next morning and I'm on the front porch trying to count how many distinct species of bird I can hear. I get to eighteen. What else can I hear? The breeze picks up and in a barely audible way, the tops of the pine trees begin whispering secrets to one another.
We have a history, those pines and I. My brother and I "helped" our father plant them when we first built the house and moved out here. Is it possible that our afternoon of tree planting will have been fifty years ago, next year? When we put them in the ground they were about a foot tall and no bigger around than my pinkie finger. They looked like sad little Charlie Brown Christmas trees. They survived.
Here they are today . . .
Mom and Dad built this place about twenty years ago . . . about 100 paces from the two-story house they built in '68. I was eight when the first house was finished, my brother six, and two sisters had not yet arrived. We all grew up in the that house over yonder. But this one was their empty nest—one story only, in anticipation of the feebler legs that eventually showed up.
Both homes sit on the same five-acre slice of rural southeastern Oklahoma I roamed freely as a boy—nestled in a valley where the Sans Bois and Kiamichi mountains serve as the front gate to the Ouachita Mountains and the Ouachita National Forest.
All these names are French. Or to be more accurate, French transliterations of Indian names. The first white people to explore this area were French trappers and traders. I'm reminded of that every time I drive out here. Right before you get to the old family place I cross a familiar old bridge over a creek named Fourche Maline—French for "treacherous fork."
I've crossed that bridge thousands of times in my life and never witnessed any treachery along the creek. But then my crossings have all come about three hundred years after Bernard De La Harpe and friends first paddled their way into this neighborhood by heading upstream from the Mississippi River, the Red River, and so forth. Who am I to say that that the old stream wasn't a little more malevolent back then.
After Dad passed away several years ago, Mom lived here alone as long as she possibly could. But it eventually became clear to all of us, her included, that living alone out here in the sticks no longer made sense. So she moved out of the house a couple of months ago with the help of my sisters. She is now safely and happily ensconced in a little efficiency apartment in a great retirement village in Oklahoma City.
However, only a small portion of her things could make the trip to the new place. A big part of the accumulation of a lifetime was left behind for us to sort through.
The contents will fall into four categories.
First, things one of us kids or grandkids wants to keep. Many of these items are keepsakes, mementos and sentimental treasures.  Some are practical items that the numerous grandchildren now setting up housekeeping for the first time will find useful.
From what remains, things to sell. What doesn't sell will be donated or given. What absolutely no one will take, will be disposed of in some way.
So, I've been digging and sorting. It's a bit like archeology. The deeper I go, the more ancient the finds. I'm uncovering things I didn't know existed. Like a bulging, rubberband-wrapped envelope with a Missoula, Montana postmark dated the Summer of 1963. Inside was a stack of handwritten letters from my Dad to my Mom.
I dimly recall that when I was about four years old my Dad spent a couple of months away from us one summer, working on his Masters degree at the University of Montana. What I didn't know was that he'd written her while he was away. As I noted the date on each letter in the stack, I saw that, in fact, he had written her every three or four days for his entire absence.
This in itself was a stunning revelation. My Dad was kind and sweet, but he was no romantic. At least that I could tell. I'd never perceived him to be the guy who thoughtfully and dutifully wrote his wife every other day while away from his young family. But he was that guy. We just didn't know it.
Then I thought about the fact that she'd kept them—tucked away with a small cache of other precious mementos. And here I was, 54 years later, learning of their existence for the very first time.
I'll share a few more of my finds in the days ahead. For now, just know that I've spent a weekend lost in time.
And trying to get my arms and mind and heart around the task of curating the remnants of two lives well lived.