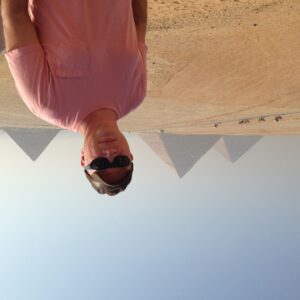 Few things in life give me more pure pleasure than visiting a faraway place I've never seen. That delight is doubled when the place is rich with historical and biblical significance.  Add to this the opportunity to have my bride along for the ride and  . . . well, that's the trifecta.
A few days ago we returned from a week in Cairo as the grateful guests of a ministry upon whose board I've served for the last ten years. This was my first time in the Middle East and my first extended stay in an Islamic country (not counting my frequent trips to the UK which, sadly, is gradually becoming an Islamic nation.)
I'm a history fanatic. And the sense of history you get in Cairo is almost overwhelming. The Pharaohs, Greeks, Romans, Byzantines, and a succession of Islamic caliphates have all left their marks on Cairo.
For example, on our first full day, we visited the Giza Plateau which holds the great pyramid of Cheops and the Sphinx. For more than 3,800 years it was the tallest man-made structure on earth. It was amazing to think that Abraham and Sarah might have glimpsed these architectural wonders when they sojourned into Egypt around 2,000 B.C.
If so, they would have seen the pyramids clad in polished white limestone and topped with gleaming gold capstones. They would have been almost blinding in the bright Egyptian sun. But here's the truly mind-blowing thought . . .
If Abraham did get deep enough into Egypt to see the Great Pyramid of Cheops, at that moment it would have already been standing there in place for 1,000 years.
The City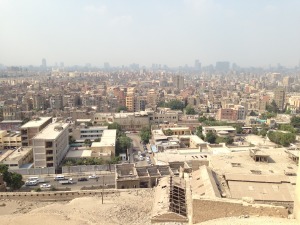 Cairo is home to roughly 20 million people. To put that in perspective, that's more than the populations of Dallas-Fort Worth, Houston, San Antonio, and Austin combined. A lot more.
As you might expect, the traffic is astonishing. As in many non-Western nations, things like lane lines and signs are universally ignored. Even so, everyone eventually gets where they are going, although much honking of car horns is required by all.
As I observed to my wife, in Cairo sounding your horn communicates, "Be aware of me." Or, "Look out, I'm coming through."  In Texas, honking communicates, "Please pull over so we can have a fist fight."
The Political Situation
Many friends and relatives raised an eyebrow when we told them we were going to Cairo. That's understandable. It seems like just the other day that the nightly news was showing hundreds of thousands of protesters in Tahrir Square and we were hearing reports of Coptic Christians being attacked and Christian homes burned.
The fact is, Cairo is extremely stable, moderate and welcoming of visitors. In fact, they are pleading for the tourists to return. And they should.
The current government of Egypt is a secular government that has no use whatsoever for the Muslim Brotherhood. In fact, they've been actively squashing the Brotherhood like a bug. They have also been quietly cooperating with Israel in their conflict with Hamas and aggressively hammering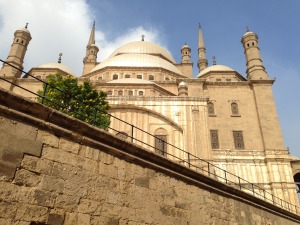 Islamist extremists operating in the Sinai.
Egypt's sternest challenges are economic. And the biggest hindrances to economic progress are vestigial remnants from Egypt's experiment with Socialism under Nasser back in the 60s. Many of the populist/socialist laws enacted under Nasser have proven nearly impossible to repeal. They're weighing Egypt down like a boat anchor.
Spiritual Climate
The most impressive and memorable aspect of our trip was the believers we met. Each day we encountered talented, passionate, delightful young Christians who are doing amazing things in media. The impact of what they are doing is reaching far beyond Cairo and is fueling ministry, discipleship, and evangelism throughout the Arabic speaking world. You'll find samples of their work and ministry here, here and here.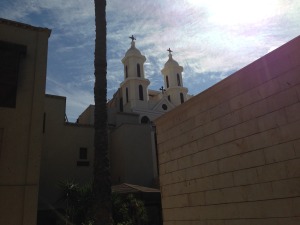 Amazing, effective evangelism is currently taking place across the Middle East. And most of that activity is home grown. By that I mean that it's not U.S. churches driving most of these efforts (although many generous Americans are helping to fund them.) It is the evangelical churches in places like Cairo providing the strategy, the organization, the prayer, and the people.
Throughout the world of Islam, the gospel is spreading and thriving–largely underneath the radar. And you'll find the epicenter of this revival in Cairo.
By the way, one morning we toured "Coptic Cairo"–a ancient section of the city containing a number of ancient churches and a synagogue.
Here, the name of Jesus has been proclaimed and worshipped continuously for  nearly 1,800 years.
For the earth will be filled with the knowledge of the glory of the Lord, as the waters cover the sea.–Habakkuk 2:14