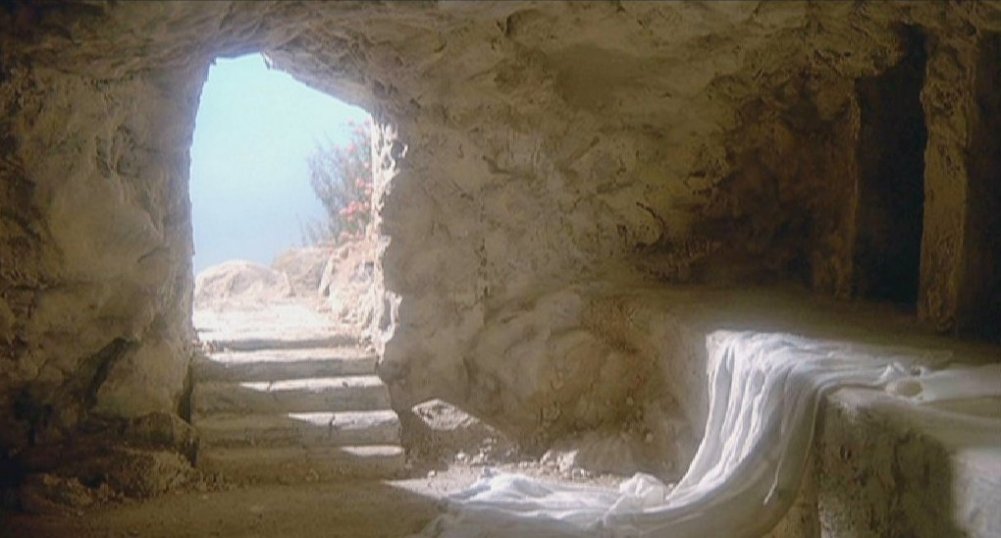 They are laying Him in the borrowed place of burial.
"Tear down this temple and I'll build it back in three days," He had once declared to the bewildered Temple leaders. Now that "temple" has been battered beyond recognition. Torn down in every way a human body can be.
Loving hands have rushed to prepare the broken body for interment. Washed it. Wrapped it in strips of linen. But the customary step of anointing is skipped. They are out of time. The relentlessly sinking sun is disappearing in the western sky.
So they hurriedly hoist the limp, white-shrouded bundle and gently lay it on a chiseled shelf in that rock-hewn womb—and anoint the body only with their tears.
Moments later, with those same Temple officials looking on to assure that all is done as ordered, the hand-picked guards roll a large stone disk across the opening. The ground beneath all feet trembles as the massive wheel drops several inches into the niche carved to hold it in place.
They seal it. And the co-conspirators, breathing sighs of relief, congratulate themselves. They have won, they believe. Finally, the hope of these stubborn Jesus followers has been once-and-for-all extinguished. Indeed, they have already scattered like shepherdless sheep.
The sun is gone. Darkness and silence envelope the rocky garden. No sound is heard, save the distant, fading sobs of a heartbroken mother.
Two nights pass. Then somewhere in the courts of heaven a book is opened and a line from a song of David is sung:
For You will not leave my soul in Sheol, Nor will You allow Your Holy One to see corruption. Psalm 16:10
Immediately, Venus, the Morning Star, rises in the east, declaring the imminent approach of dawn. The earth trembles and the powers of heaven are shaken.
Then we see Him. He emerges with a word on His lips for you, for me and for every wandering child of Adam:
"I am the living one. I died, but look—I am alive forever and ever! And I hold the keys of death and the grave." (Rev. 1:18 NLT)
"Christian, it is your Lord,
He meets the morning of His resurrection.
He arises, a conqueror from the grave; He returns with blessings from the world of the spirits; he brings salvation to the sons of men.
Never did the returning sun usher in a day so glorious! It is the jubilee of the universe!
–Edward Thomson (1810-1870)