Dear Sarah,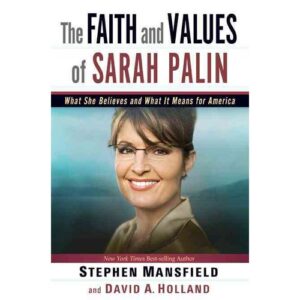 It's been almost six years since my colleague Stephen Mansfield and I researched and wrote our book about you—The Faith and Values of Sarah Palin.
We wrote it in a publishing environment in which nearly all profiles of political personalities were either hagiographies crafted to praise them to the heavens; or hit pieces hoping to make the target look like the spawn of a love connection between Josef Mengele and Caligula.
Both types of books lie in the space somewhere between PR and propaganda.
That is not the kind of book we were interested in writing. To their credit, Frontline Books allowed us to write a thoughtful, objective exploration of your faith journey and worldview from an unapologetically Christian and conservative perspective.
We weren't out to promote you. Nor were we out to tear you down. We were neither fanboys nor haters.
In a season in which many were speculating about whether you might choose to run for the presidency in 2012, we were out to give open-minded readers the fairest, most sensitive understanding possible of what shaped you and what drives you. Or, as the title promised—your faith and values.
In researching your life, words, and actions we found much to admire, and I believe this comes through in the book. For me, three of your strengths stood out as being especially impressive and praiseworthy.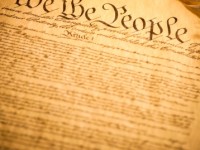 The first was your tenacious and passionate commitment to constitutional constraints on the power of government. We described the way you consistently pointed to Alaska's constitution as a candidate; and we cited numerous instances in which you courageously stayed true to those principles while in office.
You have always seemed to understand that fallen, fallible, corruptible, humans require iron-clad restraints of constitutional limitations when they exercise political power.
The second was your seemingly clear understanding that our nation had too many individuals and corporations gorging themselves at the government trough. In numerous speeches you've rightly pointed out that the welfare state fosters dependence; and that when corporations and whole industries become recipients of taxpayer money, it results in something very unhealthy for our republic.
Thirdly, we admired your unapologetic commitment to Christian values and the pro-life cause.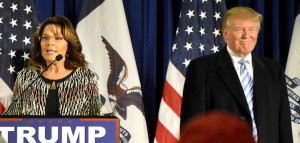 All of which makes your recent endorsement of Donald Trump not only disappointing but baffling. And I'm not the only one struggling to reconcile your ethusiastic cheerleading for Mr. Trump with the principles you've articulated and lived in public over the last ten years.
In an effort to solve this mystery, numerous cynics have opined that you, after several years of declining relevance, have tossed aside your principles for an opportunity to share a very bright spotlight once again.
I'll not try to guess your motive. I personally think presuming low motives of those with whom we disagree is a very low and nasty form of argumentation. Even so, it is one of Mr. Trump's favorite devices—along with name calling, crass insults, and schoolyard taunts.
I will say that it is highly ironic that your joining yourself to the traveling Donald Trump circus coincides with two events that the old, principled Sarah Palin would have found worthy of cheering.
The first is Ted Cruz's refusal to bow his knee and kiss the ring of the Corn Growers Lobby in Iowa. In the past, most conservative candidates campaigning in Iowa have felt it necessary to toss their principles aside and pander to the powerful corn grower/ethanol industry. But not Cruz. Cruz is standing on principle even though it is almost certainly damaging his prospects in strategically important Iowa. (Mr. Trump, on the other hand, is in full blown pander mode, praising ethanol subsidies left and right.)
The Sarah Palin I used to admire would have found some nice things to say about Mr. Cruz's courage.
Secondly, only one presidential candidate was present in snow-buried Washington, D.C. at the annual March for Life event a few days ago to show solidarity with the pro-life movement.
Carly Fiorina stood before a throng of pro-life activists and sent a message out to the pro-abortion activists who show up and try to shout her down at every campaign stop:
"You can scream and throw condoms at me all day long.  You won't silence me. You don't scare me. I have battled breast cancer. I have buried a child. I have read the Bible. I know the value of life."
That's the kind of full-throated, warrior-woman battle cry that used to earn an "amen" and an "atta girl" from you. But it didn't. It couldn't.
It could not because you've hitched your wagon to the wrong horse. And I can't help but find that sad. You're better than this.
Respectfully,
David A. Holland