It was a jarring moment. More than a week later, I'm still processing it.
Allow me to back up and explain.
In my previous post I mentioned that I have spent quite a bit of time on Ancestry dot com piecing together the various branches of our family tree. I've taken most lines back several centuries.
In biological terms, each of us has two parents, four grandparents, eight great-grandparents and so forth in an arithmetic doubling progression. That means we all have 128 5x-great-grandparents. For me, all but a couple of of these 128 forbearers were born on U.S. soil.
Put another way, when I'm pursuing a line of my ancestry and want to find the person who "came over" from Europe, I invariably have to go back at least to the early 1700s and in most cases to the 1600s.
At the risk of sounding like a Nativist, I find that kind of cool. It's colonial era pioneers and farmers as far as the eye can see—with a few Methodist preachers thrown in for good measure.
The jarring moment I mentioned came when I was doing a little of this genealogy research the other day—however it didn't involve any of these 17th century pioneers.
I found a picture I'd never seen of my paternal grandfather—that is, my dad's dad—who died in 1961, when I was not yet two years old. I have no memories of the man and had only ever seen photos taken later in his life. So, I was fascinated to have come across this one: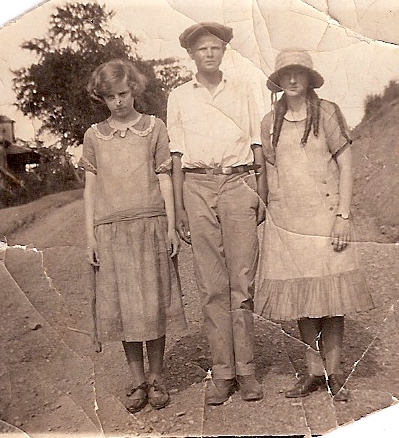 Floyd John Holland was born in 1905 in Sallisaw, Oklahoma. That's two years before Oklahoma became a state. He appears to be about 15 years old in the above photo so I'm guessing it was taken around 1920–maybe a year or two earlier.
He was the second oldest of 11 children, and the date of his birth made him too young to serve in the first world war and too old to serve in the second one. He married my grandmother when he was 20 and she was 15. They went on to have six kids, their second-eldest was my father.
He died a slow, painful death from prostate cancer in a day in which treatment options were limited. He knew he was dying for months before the disease finally took him.
In attaching the above photo to the Ancestry dot com record for my grandfather, I took note of the date of his death and did something I, for some reason, hadn't ever done. I subtracted his birth year from his death year to determine his age at death.
He was only 56.
I am 56.
It was a sobering moment. I could not help wondering what it would feel like to be finished right now, at this very point in my life. To know there would be no more accomplishments. No more milestones. No more discoveries. No more legacy building.
Yes, I know it sounds a little morbid, but in that instant I couldn't help putting myself in his place— knowing that there would be grandchildren I'd never see born, much less have the opportunity to influence.
Fifty-six is far too young to to be done.
My grandmother survived him by 41 years and never remarried. A few months before she died, she pulled me aside and quietly shared an extraordinary piece of new information about my grandfather's final days.
He had never been a spiritual man.  He wasn't a church-goer. But my grandmother wanted me to know that shortly after the cancer had confined her husband to a bed he knew he'd never leave, he'd asked her to summon the preacher.
Knowing the end was near, he did business with God.
One of the countless wonderful things about the grace-driven offer of salvation God makes to every person in every place and time is that, as long as breath is in our bodies, it is never too late to say "yes" to it.
Forgiveness, peace and Heaven are not a prize to be won or a paycheck to be earned. These are only gifts to be humbly received.
He left behind something more than a wife and six children. He bequeathed to us all an example of a man working hard to do whatever was necessary to provide for his large, young family.
In my previous post I mentioned how every genealogical researcher secretly hopes to find royalty or nobility in their family tree. It strikes me that I've found it.
In the depths of the Great Depression, in one of the hardest hit areas of the country, my grandfather simultaneously worked as a custodian, drove a bus, sold cars on the weekend and farmed—all in order to put food on table and shoes on feet.
I can think of few things more noble than that.
Even so, 56 is far too young to be finished. And that jarring realization has added fuel to my resolve to be a good steward of however many years I have remaining.
Frankly, I wouldn't be surprised if I have 56 more in front of me—112 is a good number. But we never know, do we?
This day—today—is the gift we've been given. Let's see what we can make of it, shall we?