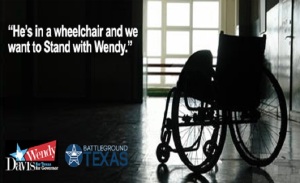 I've been following politics and studying elections most of my adult life. I'm also an avid student of history. And if there has ever been an uglier, more vicious, more dishonest media campaign for political office than that of Wendy Davis for Texas governor, I'm not aware of it.
Even the left-leaning Washington Post is now recoiling in horror. ("Wendy Davis is Running One of the Nastiest Ad Campaigns You Will Ever See") A writer for hyper-liberal Mother Jones magazine called her latest ad, "offensive and nasty."
The fact is, those adjectives accurately describe the entire campaign–which has received massive out-of-state funding, particularly from liberal coastal elites who fell in love with Wendy the state legislator when she conducted an 11-hour filibuster on the floor of the Texas House against a bill that restricted late-term abortions. When Davis' filibuster–which was accompanied by pro-abortion supporters hoping to pelt Republican legislators with tampons, condoms, bricks and jars of urine and feces–became a widely covered national story, she became the darling of the Left and Big Abortion.
Thus out-of-staters have poured millions into the Davis campaign. And those dollars have funded a relentlessly negative, misleading and ubiquitous television ad campaign. Her campaign has been carpet bombing the local airwaves for weeks.
Meanwhile, the Greg Abbott campaign has barely bothered to respond to the stream of ugly accusations in the Davis ads. In fact, he's hardly bothered to advertise at all–which tells you everything you need to know about what Abbott's internal polls are saying about the election.
And explains why the Davis campaign is plumbing new depths of sliminess as election day approaches. May that day come quickly.
Update:
Forgot to mention that the campaign media company that created Davis' latest ad is the same one that crafted the attack ad against Mitt Romney that falsely suggested a woman died of cancer because of him. So . . . lie down with dogs . . . fleas . . . and all that.